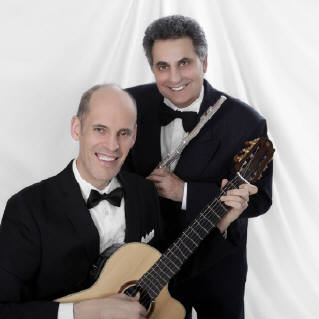 Concertino
A Flute and Guitar Duo
Available to play at Weddings, Funerals, Receptions and other Special Occasions at reasonable rates.
A Repertoire of Classical, Celtic, Jazz, Modern and Hymn selections available
Concertino is a Duo that combines the passion-filled tone of the flute, as played by Vic Norian, with the deep and soothing mellow sound of the classical guitar played by Charles Gregoire. The two instruments combine and support one another beautifully to create a rich listening experience. Concertino can make live classical music a very accessible option for your next event.
We would also be open to considering your idea or vision for the music to be performed at your ceremony or special event. Click on the following link to see an example of a performance we arranged and provided for a client at their ceremony: