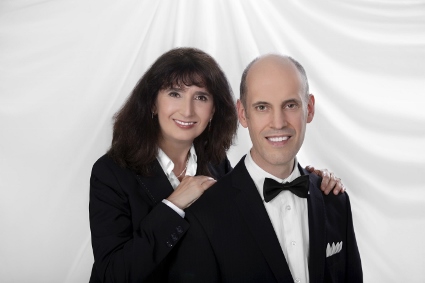 Charles Brennan Gregoire and his wife Heidi Brault are originally from the Eastern Townships in Quebec – Charles was born and raised in the Sherbrooke area. He was interested in music at an early age and took several years of piano and theory lessons prior to moving on to first classical guitar and followed later with Acoustic and Electric guitars.
Heidi was born and raised in Granby, Quebec, and was interested in music and singing from an early age. She was raised in a bilingual family and was exposed to a wide variety of international music. After attending Champlain CEGEP in Lennoxville, taking courses at Bishop's and working in Magog, she moved to the Ottawa area to completed her BA in Psychology at Carleton University. She began working in the library field and simultaneously completed a Library and Information Technician Diploma at Algonquin College.
Charles was involved with bands during his time at Champlain CEGEP in Lennoxville, Quebec. He was fortunate to have the opportunity to work with a professional drummer, which led to performing in a local venue. A few years later at UNB in Fredericton, New Brunswick, he performed with a band in the Red and Black Review, campus events, and on local television. He also taught guitar and wrote original material.
After graduating from UNB with a BSc in Electrical Engineering Charles was recruited to join a high-tech firm in the Ottawa area in 1982. Since then, he has performed at local venues, weddings, Christmas parties, church services, family gatherings, seniors' residences, and nursing homes. His singing repertoire includes an eclectic combination of Old time, Folk, Celtic (Irish, Scottish and Welsh), Country, Old time Jazz, 1950- to now Pop, and International selections arranged for Acoustic Rhythm guitar and Voice. With the magic of technology many of the songs Charles plays include a background rhythm track to add to the sound of his voice and guitar. Charles has been a full time entertainer since the spring of 2005.
After working at Nortel, Heidi spent approximately two years doing freelance work as an online Italian language course developer and instructor. She then went on to work for the federal government, first at Library & Archives Canada followed by Finance Canada.
Heidi began singing on a part-time basis with Charles towards the end of 2005. Her linguistic and musical interests have helped them grow their repertoire to include more international selections. Since having left the federal government in the spring of 2011, she has been entertaining with Charles as part of a mix of activities during their semi-retirement. Charles and Heidi also enjoy tandem cycling and travelling.
Charles and Heidi reside in Ottawa/Kanata, Ontario.